I've been trying to talk my partner into getting a food dehydrator and I've finally gotten into his head! He finally agreed to get ourselves a nice food dehydrator since we've been talking about how cool having one would be. And finally, we purchased one which has greatly helped us to refurbish our spice collection with home-dried fresh herbs &vegetables.
I'm not fond of many of the ready made backpacking food, not to mention that they can break the bank. But nevertheless, we are happy with our purchase so far so good.
Food dehydrators have started replacing oven drying, as they not only use a lot less energy but keep the kitchen a lot cooler.
But with so many of them on the market which one should you pick? Tricky question it is but let's simplify it with this detailed article about the best food dehydrators in 2021.
Some dehydrators are best for family size snacking while others are more ideal and suitable for low quantity or occasional dehydrating. Some allow you to alter temperatures while others have constant temperature settings. 
Don't forget to share it if you find it helpful.
Best Food Dehydrators In 2021
There are plenty of brands and models to choose from out there, but they're not all the same. You can find lots of different features and a wide range of prices, too!
It may look small but has so much use. With lots of dehydrators on the market, this has a decent price. It's pretty quiet when it's on, it just sounds like a fan literally.
NESCO majorly deals in small kitchen appliances and has other models of dehydrators. But this particular one is a quality product.
It comes with a Powerful Top Mounted Fan which majorly helps in keeping the liquids from dripping into the heat chamber.
This model has Five trays and the unit can be expanded to 12 trays. The extra Add-a-Trays are sold separately from the manufacturer. With these 5 trays available it helps to do lots of dehydrating at once. That said just don't put pineapple and onions in there at once or you will end up with pineapple that has an onion taste to it. It comes with different tray inserts to enable you can dehydrate different shaped things without stuff falling through.
It has an opaque Vita-Save exterior surface that the harmful light which then helps in retaining food nutrients and vitamins through the drying process.
With its 600 watts of drying power, it doesn't use much electricity.
A handy booklet is availed, and also the packaging has packets of seasoning for dehydrating meat which are good by the way. It's amazing and great for people who are looking to save money when it comes to packing food for camping and trips. It's also good for people who want to have a dehydrated snack for their kids but don't want to break a bank. It does take a little more preparation time than just buying prepackaged food but money-wise it's worth it and you know exactly what you are putting into your body.
You may wish to use an extra thermometer when in use to make sure higher temperatures are correct when drying meat.
The pestro 06300 comes ready to make meat jerky, veggies, and dried fruits. The additional kits containing fruit roll screens, mesh screens, jerky kits and accessories for fancy snacks like can be purchased separately from the manufacturer.
The trays are immersible which makes them dishwasher safe and easy to clean, but the fun of making jerky is using marinated meat in the sauce of your choosing. That being said if you pick something sticky, you'll have to pay for it later when trying to scrub remnants from the crevices of the trays. So you better decide if that's worth it to you. Patience is required. Dehydrating may take a few hours at a minimum, and sometimes may take longer if you're preparing fattier cuts of meat. The bottom-mounted fan on the machine does create noise while in use.
The Presto operates at a preset temperature of 165°F, which is not basically ideal for other foods like herbs, fruits, veggies and will have to be manually changed by the user if a recipe calls for a different temperature. An easy to understand manual is included in the box with the machine together with a recipe book to help you get started.
Excalibur makes a lot of different models, but the 3926TB model is one of their best sellers. The dehydrator is 17″ wide by 19″ deep by 12-1/2″ high. 
Yup, it's big and takes up a good bit of your kitchen counter real estate space. That's something to keep in mind if you're considering buying one.
The 9 trays it has gives you a total area of 15 square feet of drying space. That provides a lot of room for a whole lot of jerky or sliced apples or whatever it is you're dehydrating!
It comes with a timer which also serves as the on/off switch. You can turn the dial to the number of hours you want, and it starts. When the time is up, it shuts off automatically just like that.
And by the way, the timer goes all the way up to 26 hours!
The Excalibur 3926T has a temperature range of 105-165°F. This is a good range that allows you to dry a variety of foods by just adjusting temperatures according to what you need to dry be it meat, herbs, fruits or veggies.
The plastic trays are dishwasher safe which makes them easy to clean, but the mesh screen inserts need to be hand washed. The easiest way to clean the screens is to put them in the sink with hot soapy water and scrub them with a dish brush. It's not that tiresome. The outer case is made of FDA approved food safe polycarbonate plastic. Which is safe compared to other brands' plastic which means that it doesn't give off harmful fumes when it's warmed.
Excalibur is very confident in their products. That's why they offer a 10-year warranty on the 3926T.
It's more expensive than Nesco and Presto, but the Excalibur has much to offer.
The outer case is made of FDA approved food safe polycarbonate plastic. Which is safe compared to other brands' plastic which means that it doesn't give off harmful fumes when it's warmed.
The Hamilton Beach 32100A with an entry-level price, it offers an incredible set of features.
It is a great choice for home drying herbs and snacks. This efficient and compact model is meant for home use.
This vertical food dehydrator has five stackable trays made out of food-safe plastic. They can be used for all sorts of veggies, meats, herbs, and fruits. The addition of a fine mesh sheet and a solid sheet are available as an extra purchase. These add-ons can handle various herbs, small foods, and fruit rolls without anything falling through.
This model is loud as a box fan. It incorporates a fan into its design that pushes hot air up through the trays. This aids the drying time and helps in keeping the temperature even throughout the device.
The transparent cover also includes a ventilation mesh. The openings located on top let moisture escape while preventing condensation from causing problems.
The Hamilton Beach 32100A offers a 48-hour timer with auto shut off for safety. This feature helps in leaving it on when your not around or during sleep hours. Food dehydrators can run for hours on but with this timer and shutoff feature, you can almost set and forget without fear of ruining your batch or the machine itself.
The model is extremely easy to clean as the trays are of heavy plastic design and lined for easy washing. With the use of heavy plastics, you don't have to clean the trays by hand. After you have completed the drying process, place them into the dishwasher.
This model gives you more control over the drying process unlike the other models of the same price range. Which enables you to set temperatures from 100 to 160°F, in steps of 5 degrees. This makes fine-tuning possible for different foods and yields better results.
American Harvest is one trusted name in US food dehydrators and small kitchen appliances.
The NESCO FD-61WHC Snackmaster Express Food Dehydrator is based on experience that has been gathered over the decades.
It has an adjustable thermostat with temperature ranges of 95°F to 160°F giving you control over temperatures so that different foods can be dehydrated at the temperature that best suits them. The high temperatures are ideal for meat to produce jerky. Also the materials used in this dehydrator are BFA-free and the appearance is attractively styled and easy to use.
With the five trays, this model has it can be expandable to a maximum of 12 trays of which the seven extra trays are purchased separately.
The tray racks can be cleaned in the dishwasher (take trays out before the drying cycle to avoid the possibility of warping).
This model has a one-year unconditional warranty. However, this doesn't extend to the accessories, like the jerky gun.
For the drying system the air goes through the exterior chamber, then horizontally across each tray into the center column, rather than vertically through the trays. Thus preventing flavor-mixing and reducing drying times.
The only significant complaint was that some customers felt that the food took longer than expected to dehydrate, which is to be expected, however, as this unit only has 500W of heating power, compared with the 600W of power found in most similar-sized dehydrators. 
The dehydrator comes with the All in One kit, that consists of 5 cure packs and 5 jerky spice packs, a jerky gun with 3 tips, 2 Clean-A-Screen inserts, 2 Fruit Roll sheets, and a user guide with a recipe book.
This model lacks a timer or on /off switch, though this is common with many other dehydrators in this price range, but it can be solved by installing a plug-in wall timer that has its own built-in power switch.
Chefman 5 round food dehydrator is a simple, fair priced model that suits the needs of any home kitchen. 
According to Chefman, it's their mission to help you master the art of cooking. Using an integrated ecosystem of innovative hardware, intuitive software, & incredible content, for their products to help you craft a share-worthy meal. 
It's easy to use. You can simply slice fruits or vegetables, load everything into the unit and press a button. Later that day, in about 10 to 15 hours, you'll have your perfectly dried snacks. 
Many recipes are available online for sugar-coated fruit, seasoned veggie chips and other delicious creations. Making jerky, or any other meat product, in this unit requires pre-cooking because this dehydrator's one temperature setting of 158 degrees is not high enough to kill bacteria in meat. 
when you're to begin the drying process, irrespective of what you are making, you should space the food evenly in the trays.
This model comes with five trays so you can choose to do with them whatever you prefer that if using them at once or one at a time.
The chefman 5 round doesn't have a heat control just as we've seen with all other fairly priced model types. The heat comes on as soon as you plug it in.
The trays are transparent so you don't have to remove them while the dehydrator is operating. 
The Chefman's 5 tray food dehydrator is among the simplest to operate, and it literally won't disappoint as it performs as well as any other.
Also, the entire unit is made of plastic. It will not crack due to normal use, but both the base and trays can easily break if dropped from a countertop. On the plus side, plastic construction makes for a light unit. 
The base, which includes the fan and heating element, is covered by Chefman's 1 year warranty. Truthfully, you are very unlikely to need to file a claim. There are few customer complaints of product failure in the first year.
Gourmia GFD1680 Premium Countertop Food Dehydrator is such an item, which is reliable, effective and furthermore value commendable. It is a fair price, yet neither too expensive to even think about making you suffocate nor too cheap to have only the basic features. If you know the fundamental operations of a food dehydrator, this unit will enable you to do some advanced activity with it.
The main distinction between Gourmia GFD1650 Premium Countertop Food Dehydrator and other food dehydrators in the market is its digital temperature control and thermostat. You will have the benefit of dehydrating your food exactly with specific temperature and a time limit. It will reduce the moisture and preserve food content and will likewise give you a natural flavor after quite a while.
The Gourmia GFD1680 will give you a great chance to dehydrate any fruits, vegetables as well as some tasty tidbits or healthy food for your family. In contrast to the different units, this dehydrator has various functions which will make your job easier to dehydrate your food.
This dehydrator comes with 6 trays, and you can likewise utilize 8 trays if you need to. These trays are made of hard plastics, really easy to clean and in particular, BPA free. If you're a health-conscious individual, without a doubt it is a big relief for you to have a BPA-free tray.
The Dehydrator enables you to proceed with your dehydration activity in a wide temperature range from 95°F to 158°F (35°C to 70°C). It is sufficient for any basic or advanced dehydration as well as preparing any foods.
This dehydrator can stream the air from 360 angles of the trays. It will spare your strain to rotate the trays or move the things on the plate. This 360-degree airflow ensures all your foods are equally dehydrated from each possible angle.
The fan of this Dehydrator is on the top. It is exceptionally productive yet extremely quiet during operation. This unit requires a 400-watt power source which empowers it to play out the activity easily.
This unit includes 1 meet sheet and a solid sheet. A user manual is also additionally provided to better your understanding. The design is attractive and fits with any sort of countertop.
Aroma Housewares Professional is an absolute necessity to have nowadays. When utilizing this dehydrator, you can expel moisture rapidly from your food. This unit is likewise supported by an automatic fan that aids in the drying of food.
The Aroma Professional Dehydrator productively handles everything from fruit slices to beef jerky on six adjustable trays and each tray can support up to 1 pound of food. Also, its number of trays cannot be increased as it is the case with other dehydrators. It has an automatic fan that promotes even drying and keeps away from the food from overheating that preserves its important nutrients.
This dehydrator additionally has an adjustable thermostat which guarantees that all foods are dehydrated at their optimal temperature. Its temperature is adjustable from 95 to 155 degrees Fahrenheit.
Aroma Professional Dehydrator includes a helpful feature which is the drip tray, now this minimizes the mess and makes the cleaning easy. The convenient drip tray gets any drips or buildup from the drying process and makes clean up simple.
Because of its small size, it can literally be placed easily even in a small kitchen. The unit dimension is 13.58 x 17.72 x 12.4 inches. The Dehydrator additionally requires 300Watts of power to work efficiently. Therefore it uses less energy compared to other dehydrators.
It comes with a whopping five years warranty. This 5-year warranty is a commitment that your dehydrator will provide years of trouble-free operation and that they are indeed confident in their product. The total weight of the Aroma Professional Dehydrator is 11.68 lbs. It is a lightweight dehydrator and can be positioned anywhere with no trouble.
This unit features horizontal airflow that promotes even drying compared to the cheap vertical air flow dehydrators. This dehydrator also has an On/Off switch that indicates that the dehydrator is on, which is convenient for the customer.
The Aroma Dehydrator is made of BPA free plastic material.
Over the years, people have always known the benefits of food dehydration, and no the entire process can be performed easily sitting at your home. A whole lot of companies are now manufacturing high-grade food dehydrators that can be either used for commercial or domestic purposes.
The L'Equipe 528 6 Tray Food Dehydrator aids you to do dehydration of food in a safe manner. Matter of fact is with this appliance, you can enjoy your winter fruits in the months of summer periods and that is awesome.
This product has an attractive premium design at a price that can attract any person's attention. Though its price is low it can compete with any costly food dehydrators that are available in the market.
This food dehydrator retains all the vitamins, nutrients and the delicious taste of food with the help of sufficient temperature of heat.
The L'Equipe 528 has a high power fan and a heater located at the appliance base. Within the dehydrator, the hot air flows upward over the entire trays. which means, you don't need to open the dehydrator to rotate the trays so that the heat is distributed evenly. This vertical airflow takes very less time for drying out the veggies and fruits entirely.
With the L'Equipe 528 6 Tray Food Dehydrator, it comes with 6 trays. But, you have the option of adding 6 more trays that will increase the drying area. This expansion is only needed if you want to dry out large size batches of food.
This food dehydrator provides a silent operation during the food dehydration process. Therefore, if you are thinking of using it during the night time, then no worries you can go on without disturbing the sleep of the other house members.
The L'Equipe 528 6 Tray Food Dehydrator has 500-watts which is ideal for drying veggies, flowers, and herbs. Its fan also is at the base of the unit for a fast drying process. Its air flows from bottom to top in the appliance. Along with the L'Equipe 528 6 Tray Food Dehydrator, you will get an additional booklet which instructs about the recipes and the time required for drying the different food item.
The L'Equipe 528 6 Tray Food Dehydrator comes with a wait for it a 10-year warranty which is incredible. The product is manufactured from the BPA free plastic which is safe for the health of human beings.
With its rectangular shape, this food dehydrator has a weight of 11 pounds that is lightweight to carry from one place to another.
With this appliance, there is a feature of an adjustable computer-controlled temperature sensor that helps with drying out your food item at the right temperature. Better yet, you will not find this feature in the majority of the costly food dehydrators.
With this food dehydrator, there is no timer. Now, this is a major drawback of this unit. With a busy and hectic schedule without time to look after the dehydration process, this dehydrator may not be your of tea since it has no timer.
Its trays can be taken out quickly, and can easily be washed in the sink of your kitchen. Also, the plastic used in this dehydrator is BPA free.
This unit has a dedicated ON/OFF switch for the more convenience of the user such that they can use the power of the product when they need it. Also, it's very much easy to use this dehydrator as no much guidance required for operating it even for the first time.
Is It Worth Buying a Dehydrator?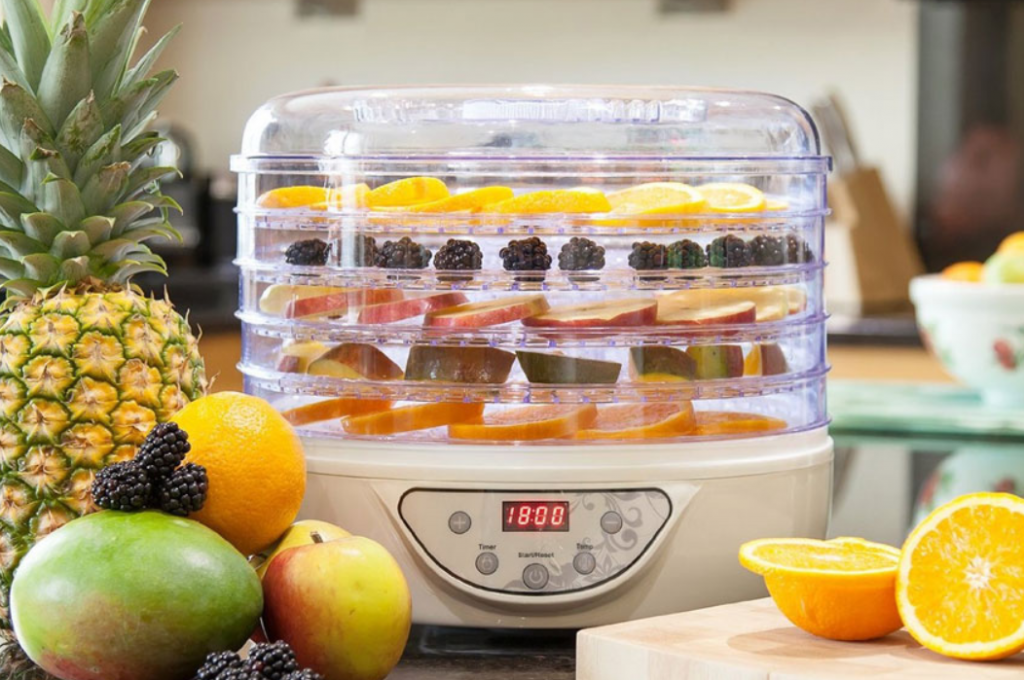 Buying already dehydrated snacks from supermarkets is easy and convenient but also expensive and you can never be sure of the hygiene rendered during the dehydration and packaging process. But the good news is if you preserve your food at home your in full control of the hygiene. Also, you can always make a snack when you feel like it.
Dehydrators offer a remarkable solution when it comes to dehydrating foods that are flavorful and healthy. If you like to save meats and veggies for future utilization, you will most definitely profit by a dehydrator.
Additionally, these devices are ideal for families that need to give nutritious snacks to their kids. If you are thinking about whether owning a dehydrator is worth it, then just take a look at their types, functions to help make up your mind.
Different Uses of Dehydrators?
Using hot air dehydrators dries food and preserves it for either immediate or future consumption. These big boys are capable of a whole lot more like we're yet to see.
Fruit Preservation: pineapples, oranges, apples preserve their flavors when dehydrated and get a crunchy texture to them that make them undeniably delicious.
Yogurt Making: It shouldn't get complicated when in need of making yogurt. Rather all you've got to do is set the right temperatures with your dehydrator, set the right time for the entire process and you'll get yourself delicious yogurt.
Jerky Making: Now the most popular dehydrator usage is making jerky. The meat is marinated in a sauce of your choice, then it's cut into long strips and put into the dehydrator for drying. The end results of these meat strips are then kept for later use and consumption.
Fruit Leather Making: Kids of all ages enjoy Fruit leather. The good news is it is easy to make fruit leather with a dehydrator, you just use a non-stick sheet on the trays such that the fruit leather is easy to remove.
Drying BerriesDried berries are rich in antioxidants and these make a great snack anytime. Simply wash the berries to get rid of any dirt or dust and put them in the dehydrator for the required time
Chips: With the many recipes online just search for any you want and replicate to get a rich flavor. There are many varieties of veggies and fruits you can make in dehydrators. The popular ones are kale chips, zucchini chips, orange chips, banana chips, to mention but a few.
Drying Nuts: you have to overnight soak the nuts before dehydration. When completely dry, you can keep them or eat them when you like. Salted nuts are rich in nutrients and are delicious too.
Herbs dehydration: Ground up herbs are delicious with salads, bread, veggies and much more. All you have to do is dehydrate up using the dehydrator and then grind them for later use.
Home dehydration doesn't favor all foods that include many dairy products like whole eggs, milk, cheese, and butter. Avacado and olives are also not suitable for dehydrating.
Types of Dehydrators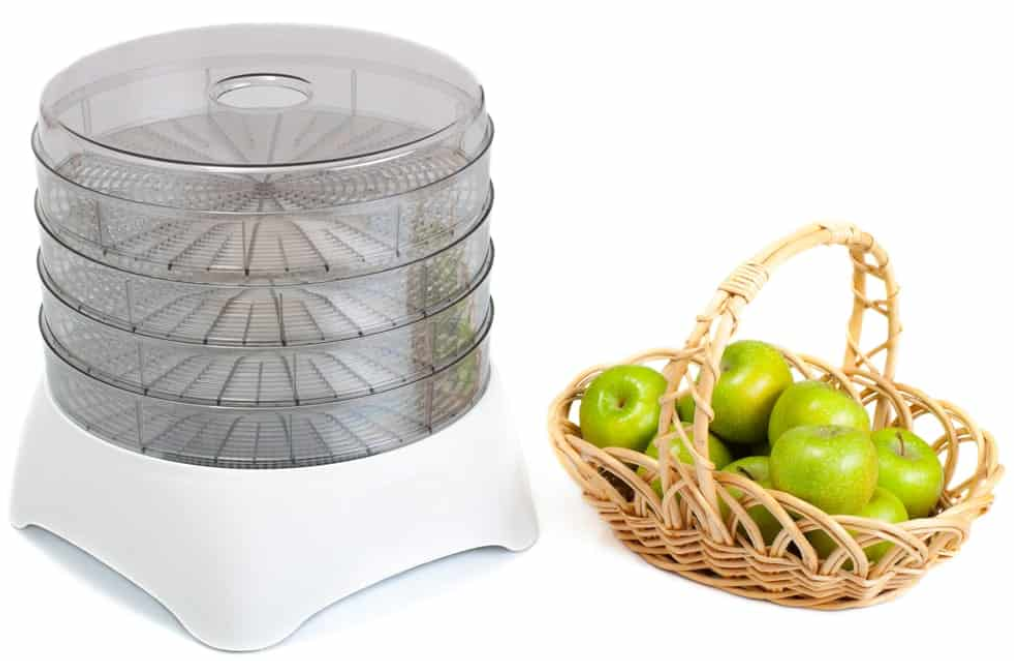 Many companies are selling dehydrators today. Every company has a different approach to how a dehydrator should work and be designed. Though the principle behind each dehydrator is the same, they come with their own advantages and disadvantages.
Vertical Flow Food Dehydrators – Stacked Trays
These dehydrators are simple in design: The stacked trays make the chamber, well as the fan at either the top or base of the unit circulates the air throughout. In Comparison with the horizontal-flow dehydrators, vertical-flow units have are smaller and cost less. there is an option of even expanding the drying capacity in some vertical-flow dehydrators by purchasing extra trays. The majority of vertical dehydrators are round and feature trays that stack one on top of another than sliding into the tray slides. This means you can't dry food thicker than the depth of the tray. The vertical dehydrator lid is on the top of the unit, therefore you can't remove a tray from the bottom unless you remove the ones above it. 
This dehydrator type is ideal for solid foods and batch preparations. Even though they can't handle trays of liquids for instance fruit leather.
Horizontal Flow Food Dehydrators – Slide-in Trays
This dehydrator type looks like a small convection oven, and it's made either stainless steel or plastic. Unlike the vertical units, horizontal flow dehydrators have got fans that draw air across the trays and through the back of the units. Many of the models have tray doors and slides on the side to enable you load and remove tray contents without removing all the trays. Horizontal dehydrators also come in all sizes from small all the way up to large floor models.  With this style of a dehydrator, it costs more and consumes more space than vertical-flow units.
How to choose a dehydrator
Dehydrators involve little more than a low-watt heating element, a fan, and airflow. There are a couple of things to keep in mind when you are looking for a dehydrator. It's a great idea to be open and aware of all the options so you can make the best decision:
Size & Capacity
When picking a dehydrator you should make sure that it is going to fit in the space available. Take into consideration all the dimensions of the unit – front to back, top to bottom, to make sure it's going to fit in the space you have.
A lot of time is put into preparing and then drying your own food, and the results shrink dramatically. So you need to be able to dehydrate a lot all at once. But it doesn't mean you may deal with a giant unit. Preferably dehydrators you should strike a good balance of bulk and drying volume.
If you are to dry a few herbs for cooking, a small unit is enough. but if you want to dry large produce like yogurt, granola then you may need a large unit to handle the volume.
Accessories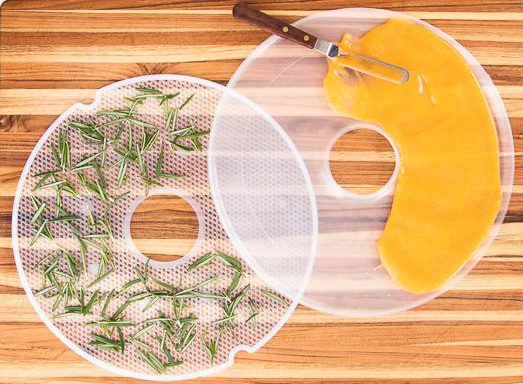 Extra accessories like fruit-roll trays and fine-mesh mats are handy for your dehydrator. Like for instance, the Fine-mesh mats help keep small items like herbs from falling through the trays. Also other than just making fruit leather, the fruit roll trays are handy for campers to dehydrate lightweight meals. With some companies including these accessories with the dehydrator, others charge extra for them. So you've got to know how you'll use your dehydrator.
Temperature settings
Different food types have their own temperature requirements when it comes to drying. Most dehydrators range from 90 to 160 degrees Fahrenheit, which is favorable to dry most foods. You should stay within the correct temperature range for the particular type of food you're drying. For instance, you'll run the risk of case hardening where the surface dries quickly and prevents moisture from evaporating when you try to dehydrate veggies and fruits above 140 degrees.
Fish and meat need the highest temperature setting on your dehydrator, around 160 degrees. Most fruits and vegetables dry within125 and 140 degrees. Nuts, flowers, and herbs dry well with low temperatures of 90 to 100 degrees Fahrenheit.
Wattage
In lay man's language, it is the amount of power being released. The lower the wattage, the less energy a unit uses and the longer it takes to get the job done. The higher the wattage units more quickly the drying process and are more powerful, though they are also more expensive to purchase and run.
Even Drying
It's too much stressing to rotate and rearrange trays, therefore, the best dehydrators are ones that evenly dry food. When your dehydrator circulates well air it saves on the amount of work you invest through the drying process. The best results are from round vertical-flow dehydrators with the motor at the base. The heat rises, and a bottom-mounted motor pushes hot air where it naturally wants to go. The top-mounted dehydrators find it hard to push heated air down to the lower trays and these require more rotation and attention.
Noise
All dehydrators use a fan, so if you can't stand the sound of a room fan on high speed you've got to take the noise factor into consideration. Though you can opt to run the dehydrator in another room if it's possible if not then you can opt for a quieter dehydrator or better still run the dehydrator at night.
Cleaning
Most dehydrator trays are made of plastic and can mean to be a tag of war to wash because of lots of crannies and nooks to clean. But as common knowledge, plastic trays aren't safe to run through the dishwasher, because the excess heat can warp them if not removed before the heat intensifies. An easier trick would be you to place them in the sink, soak them in hot soapy water and use a dish brush.
Automatic shutoff
Dehydrating times vary by batch, so the automatic switch-off feature is useful if you have a lot of experience dehydrating. Otherwise, in case the machine goes off before the food is fully dried, you risk spoilage or mold growth. Literally, there's no such thing as overdrying from a food preservation view. But snacks like fruit leather are more enjoyable when they're still a bit chewy, and dried to a crisp.
Tips for successful dehydrating
Safety First
Dehydrating food at home isn't as simple as putting food on a rack and turning on a switch. It will be great if you first get to know about food safety and best practices to ensure your homemade dried snacks and jerky don't cause foodborne illnesses. The National Center for Home Food Preservation website is a great accessible resource for home food preservation.
Seal it tight
Your dehydrated food items will stay fresher longer in an airtight container. It will be ideal to use dry storage containers with tight-fitting lids or plastic zip-top bags. You may also consider rooting for a vacuum sealer if you have small storage space or when packing dehydrated food items for long camping trips.
Plan Ahead & Start Easy
Different foods dry at different rates. Like a peach, it will dry slower than herbs. For the most efficient drying times, try to alternate the rates so that similar food items can be dried at the same time.
Taking it upon yourself to dehydrating your own food takes practice and patience. So if you're a beginner, bear in mind that it will take some time before getting your own method down.
Uniform cuts
Consistent cuts are the key to even drying, so you better practice your knife skills. For instance, If you've got thick pieces and thin pieces, they're going to dry at different rates. So if you're not yet good with a knife, you can get a mandoline to your rescue.
Another easier way to perfectly uniform sticks of ground meat jerky is the fast jerky gun. If you're making jerky from thinly sliced meat, you need decent skills and a sharp knife. Quick trick, you can also ask your butcher if they can help you out.
Record keeping
Drying times vary from batch to batch with reference to moisture in the food, batch size, temperature thus affecting your drying times. But if you have a notebook handy you simply record details of your attempts. By keeping records of your successes and failures, it will deter you from making the same mistake again.
Allow enough time
Regardless of the food type you're working with, dehydrating food takes time. When just starting out, see to it that you allocate enough time to completely dehydrate food before you need to use it. Food that isn't completely dry will form mold and go bad much more quickly.
Don't Over-Dry
Avoid overly hard foods by setting a timer, if your unit has one. But if the unit you chose doesn't have a timer, make sure to keep an eye on the drying process.
Don't Overload
Well, you might get tempted to pack much food into the unit when getting ready to use your dehydrator. Resist the temptation. When the trays are overloaded, the food overlaps and it doesn't dry up properly leaving you with uneven drying. And even though the food is properly placed on the trays but then again the unit is too full your food will take much longer to dry.
Rehydrating
The beauty in dried foods is the fact that they're extremely versatile. They can be used as they are or be served, better yet you can rehydrate certain foods for use in baked goods, soups, and other recipes. All you have to do is, soak them in clean, water until they reach the consistency you desire.
Get Expert Advice
Read more on home dehydrating, with info from trusted resources. The National Center for Home Food Preservation is a great resource for food safety guidelines. Also The Dehydrator Bible by Jennifer MacKenzie, Jay Nutt, and Don Mercer is a good catch. This book offers practical advice with relevant food science.