We can all agree that getting a massage after spending a long day at work can be very relaxing. But after spending so much time at work, who has the time and energy necessary to go to a massage parlor? This is where the best massage chairs in 2022 come in handy.
Massage chairs are capable of replicating multiple massage techniques, and you can get a very comfortable massage experience. But finding a good massage chair can be difficult.
 After thorough research, we came up with a list of 8 models worthy of your attention.
We're certain that after reading the  best massage chairs reviews and the comprehensive buying guide we prepared, you'll be able to find the right massage chair for your needs.
Best Massage Chairs in 2022
1 . Human Touch WholeBody 7.1 Massage Chair
This innovative chair offers a full-body therapy to soothe pain in your muscles. It has a BodyMap PRO feature that lets you choose the area that needs relief so you can feel better. Designed with 5 auto-massage programs: Full, Upper, Lower, Relax, and Sleep massage, this state-of-the-art machine allows you to customize your experience for a rejuvenating massage done right in the comfort of your home.
It is Powered with Figure-Eight technology, it massages the calves in an upward, wave-like motion to optimize blood circulation from your foot to your core to improve general health and enhance vitality.
Engineered with an ottoman that acts as a foot and calf massager and a swivel base that rotates up to 55 degrees, this chair offers the ultimate in comfort. Its soft material cushions your body and provides ample support.
2 . Real Relax Zero Gravity Massage Chair Recliner
The Real Relax Massage Chair the epitome of value for money in the world of massage chairs. This oozes class right from fabric to intricate stitching, with no seam out of place. The Real Relax chair features the most recent ergonomic chair design meant to offer users the ultimate level of comfort whenever this recliner is in use. It offers a zero gravity design, vibration, a heating function, foot roller and full body airbag; features that are also common in many of the most expensive massage chairs. The only difference between those chairs and the Real Relax is its affordable pricing.
Also, the recliner feature in this chair enables you enjoy comfort in various positions, from entertainment to sleep and even to rest. It also has a remote manual that can set a timer for up to thirty minutes and also customize your massage to suit your individual needs. To sum it up, the Real Relax makes for a great gift for office workers, or for use at home and office. 
3. Snailax Shiatsu Massage Cushion
The SHIATSU BACK MASSAGER has 4 deep kneading massage nodes that travel up and down relaxing your entire back. With its 3 massage Zones for your choices: Full back,Upper back,Lower back. together with an intensity control flap that allows you choose a softer or more intense massage. The massage nodes are adjustable at max. height of 3mm to fit the curves of the body for more comfortable massage experience. The spot massage it features allows you to concentrate the kneading on one area for particular point relaxation.
Providing you a comfortable massage to Hip and thighs is the vibration on the seat that has adjustable 3 levels of intensity at the same time it warming your back while relaxing tense muscles across your entire back, lumbar and shoulders.
4 . Esright Massage Recliner Chair
Relaxing is goals in this wonderful recliner chair with vibrating, reclining, heating, 360° swivel, rocking features. Soft and sturdy faux leather design suitable for intensive use, padded with extra thick sponge for back cushion and armrest. Coming in with 2 cup holders and extra storage bags to rest your drinks and hold magazines, good for taking a rest or watching TV, reading on bedroom, living room.
This upholstered recliner has 140° manual control recline feature, comes with remote controller and power cord for massaging function, 5 control modes, and 2 intensity levels.
Very easy assembly, all parts and instruction included, no screw needed. Professional Customer Service & Technical Support. Contact us freely if have any question.
5 . Zero Gravity Shiatsu Luxurious Electric Massage Chair
This true zero gravity massage chair positions you in a true zero gravity recline allowing better blood circulation, relaxation and a deeper and more effective massage. It comes with 6 different massages variations: Knocking, Kneading, Rolling, Shiatsu, Tapping, Vibration (seat) and combo Tapping with knocking (extremely effective). Also featuring 4 automatic massage programs: Stretch, Relax, Swing, and Recover mode.
When Placed in the lower back region of the chair the 2 heating pads enhance the massage experience. The heat is a mild warming heat to help loosen a tight back, Located on the bottom of the feet are 2 rows of spinning reflexology massagers which provide a soothing kneading style application.
According to the acupoint massage, 8 massage rollers inside the backrest and foot rollers function, 56 air bags placed all over the shoulder, arms, seat, and legs, offer you full body massage.
How We Chose Our Selection of Massage Chairs
Brand – In this article, we sought to provide all readers looking for the best massage chair with options from both well-known and lesser-known brands. This variety was necessary since some brands, though lesser known, produces recliner chairs of high quality. Brands found above include Relaxonchair, Ideal massage, Kahuna and Real relax.
Design – Massage chairs are different in many ways, but it's their construction that mainly sets them apart. Some massage chairs are designed with features such as the zero gravity position, while others aren't. Others come with heated airbags while others don't. This article covered the various designs available on the market.
Ease-to-Use – All chairs enlisted above ensure ease of use by users. Some don't require any installation, as they've been assembled before purchase. This makes the application extremely easy.
Reviews – User reviews from many websites were analysed and revised to select only the best massage chairs for readers. All specifications and features were researched upon to ensure that readers are given nothing but high-quality products.
Price – Affordability is relative to uses, which is why our selection consists of massage chairs with varying price ranges to cater to every potential buyer's pocket and budget.

Features to Look For In Massage Chairs
Construction – There are several technologies used to construct massage chairs, and these must be researched upon before any purchase. For example, the Human Touch Massage chair uses the CirQlation Figure-8 technology, a feature that improves circulation around the entire body. Others use their own individual patented technology.
Size & Design – The size of a massage chair is an important factor that must be considered before purchase. Size must be selected depending on the potential users of the chair. Are you going to be the only one or is the chair meant for your entire family?
Material – Some of the materials used in constructing message chairs include metal for framing and leather or faux leather for the seating.
Massage Coverage – In choosing a massage chair, select a chair that offers you with full coverage, as this will ensure your entire body is relaxed after a session. You could pick a chair that has an added option of customisation to target particular parts of your body when you need it.
Massage Styles & Programs – Research on the massage styles and programs various brand use. Some chairs come with four, while others have five, six and nine. Select one that will fulfil your relaxation needs effortlessly.
Customisation – Look out for massage chairs that give you the options of creating a massage program specific to you, if you don't need a full body massage.
Durability – Consider getting massage chairs made with high quality and sturdy materials for their frames and chairs. A metal frame ensures that your chair can withstand external forces imposed on it at any time.
Weight Capacity – Depending on its intended use, be sure to know the weight capacity any massage chair you purchase has. If it's meant for a family, look out for chairs that can accommodate various body sizes and frames such that no one is left out.
Control – A great feature that any massage chair can have is a remote control. It's even better when its wireless. This means you can switch between massages with ease at the click of a button.
Extras – There are several additional features certain chairs have, from added airbags to Bluetooth systems and liquid crystal displays. Depending on what you're in need of, research on the various brands available and their various specifications.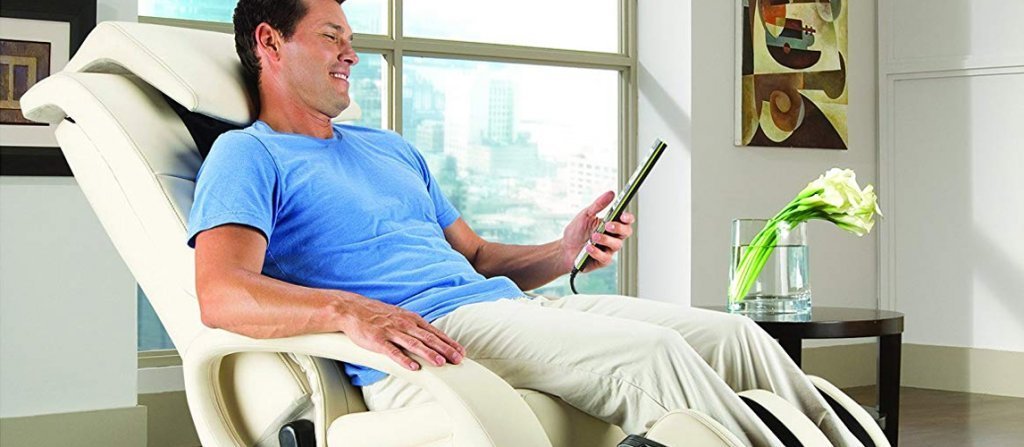 Types of Massage Chairs
Massage Chair Pads – Massage chair pads are an excellent option for those in need of something that is portable and automated, or something that is budget friendly. You can fold these pads up, and take them with you anywhere, transforming any chair you come across into a massage chair, from a couch to your recliner and even a loveseat. It's excellent for camping trips and extended vacations at a family member's house.
Standard Massage Chairs – Standard massage chairs come with features that increase your flexibility and also help get rid of your body pains faster.
Full-Featured Massage Chairs – The most sought-after type of massage chairs for homes is the full-body massage chair, and for a good reason. This chair can either be a zero gravity or shiatsu chair and has been designed to massage your entire body.
Shiatsu Massage Chairs – Shiatsu massage chairs are designed to offer users a holistic healing experience. Most are crafted using the Japanese cultural relaxation techniques, to heal your body and mind by releasing your blocked energy. It involves placing pressure via kneading, rolling or stretching on specific pressure points such that energy is released.
Reclining Massage Chairs – Reclining massage chairs enable users to use their chairs in various positions for any purpose, be it to relax, sleep or enjoy a good movie.
Zero Gravity Massage Chairs – With this chair, you're made to lay down horizontally with your legs and feet elevated slightly above your heart. This allows you to relax more by alleviating gravity's force on your spine.
Benefits of using a Massage Chair
Massage chairs are known to help reduce stress in people. They also assist with the reduction of blood pressure and can help with other problems such as arthritis.
Massage Chair FAQs
Q: HOW DO MASSAGE CHAIRS WORK?
A: To provide a user with the sensation of a massage, massage chairs are made with a device placed within the chair. This device may have a simple vibration element, or it could make use of water or even airbags to promote blood circulation.
Q: WHAT KIND OF HEALTH CONDITIONS CAN MASSAGE CHAIR HELP WITH?
A: Massage chairs help with various conditions, a few being pain, anxiety, diabetes, sleep disorders, and stress-related tension.
Q: HOW OFTEN SHOULD I USE A MASSAGE CHAIR?
A: You can use a massage chair daily, but excellent results are achieved when its used in shorter increments.
Q: HOW LONG SHOULD I STAY IN MY MASSAGE CHAIR?
A: It's advisable to sit in a massage chair for fifteen minutes at a time. Going for more extended periods can damage or bruise your muscles and body tissues.
Q: WHAT IS THE 3D MASSAGE CHAIR TECHNOLOGY?
A: 3D massage chair technology consists of a roller head that can protrude an additional 8-10 cm from the track to massage areas that traditional massage chairs often neglect.
Q: HOW MUCH DOES A MASSAGE CHAIR USUALLY COST?
A: The average cost of the most expensive massage chair is $6,000. Considering this is what you might pay a professional annually for many massages, this is an excellent investment into something you pay for once and use for as long as you please.t